Our service level and support pledge
13 April 2010
We are constantly improving our systems at Well Informed. This means that sometimes we will need to schedule time where our services will be unavailable. Have no fear though, any planned downtime will be scheduled between 5am and 9am GMT to minimise any impact on customers.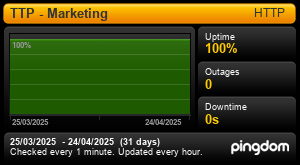 We aim to provide a service that has a 99.9% uptime. This means that our services are only allowed to be down for 43 mins 50 secs per month.
We have a standing maintenance window on Tuesday mornings between 5am and 7am UK local time.
We will always give two days notice ahead of any major scheduled downtime outside this service window. You'll see these notices at the top of the Dashboard after you sign in to any service.
The availability of our services are continuously monitored by an independent third party. You may review our system's availability by revisiting this page.
And if something bad does happen, we have dedicated support specialists based in London (UK) and St Louis (USA), who can provide any help or information that you need. Email-based support is available between 9am and 6pm GMT Monday to Friday. We expect to respond to all emails within 24 hours of receipt or by the next working day if received outside working hours.
You may also find it useful to follow us on Twitter.